Thick, chewy, super rich triple chocolate cookies loaded with chocolate.
Triple Chocolate Cookies are thick, chewy, super rich cookies loaded with three types of chocolate- unsweetened cocoa, dark chocolate chips, and milk chocolate chunks. These decadent, fudgy cookies pair perfectly will a glass of cold milk. These triple Chocolate Cookies are tender chewy and bursting with chocolate flavor. They are rich and decadent while staying chewy and moist. They're so easy to make and will satisfy all your chocolate cravings. These chewy triple chocolate cookies are large bakery-size cookies that'll have you hooked from the first bite. The best part about these Triple Chocolate Cookies, after the chocolaty goodness, is that they are so easy to make. They come together in minutes, and they bake in about 18 minutes.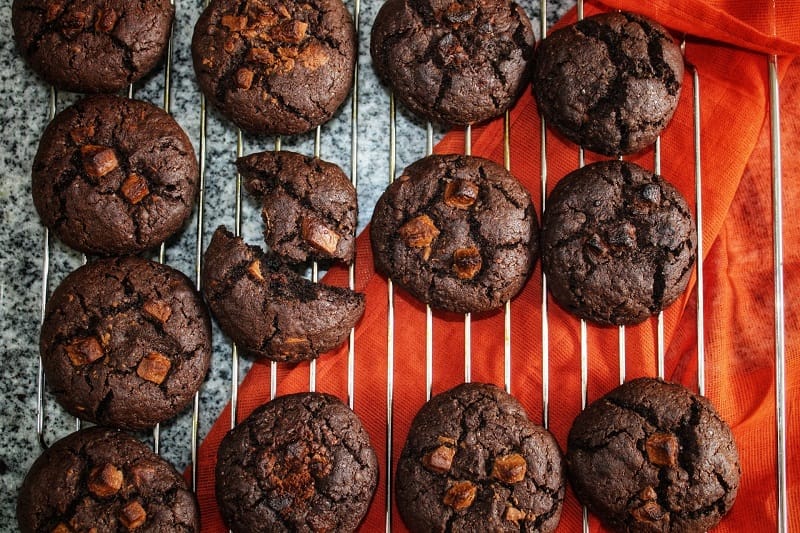 Ingredients to make Triple Chocolate Cookies
How to Make Triple Chocolate Cookies
Mix wet ingredients: Cream together the salted butter, and sugar. Mix in the eggs and vanilla extract.
Add the leaveners: Add the baking powder and baking soda to the mix.
Add in the cocoa and flour and the chocolates: Add the cocoa powder and mix thoroughly. Mix in the all-purpose flour too and combine. Fold in the chocolate chips and milk chocolate chunks.
Prepare cookie sheets: Cover two cookie sheets with parchment paper. Make big balls of dough and place on the cookie sheets setting them apart by 2 inches.
Bake: Bake at 180 C for 18-20 minutes. Allow to cool on the sheet for 5 minutes before removing to the cooling rack to prevent breaking.
Love Triple chocolate cookies? You would love these recipes too:
The Best Eggless Chocolate Cookie Recipe
Foolproof Strawberry Macarons Recipe
The Best Walnut Brownie Recipe
Triple Chocolate Cookie Recipe
Course: Dessert
Difficulty: Easy
Thick, chewy, super rich cookies loaded with chocolate.
Ingredients
Butter – 3/4 cup

Sugar – 3/4 cup

Eggs – 2

Baking powder – 1 tablespoon

Baking soda – 1/2 teaspoon

Vanilla extract – 1 teaspoon

Unsweetened cocoa powder – 1 cup

All-purpose flour – 2 cups

Dark chocolate chips – 1/2 cup

Milk chocolate chunks – 3/4 cup
Directions
Preheat the oven at 180 C.
In a large bowl, add ¾ cup of salted butter at room temperature and cream it. Add ¾ cup of granulated sugar and beat well till light and fluffy.
Add 2 eggs into the mix, one by one and beat well.
Add into this 1 tablespoon of baking powder and ½ teaspoon of baking soda and 1 teaspoon of vanilla extract and mix well.
To this, add 1 cup of unsweetened cocoa powder and combine. To that, add 2 cups of all-purpose flour and combine.
Add to this, ½ cup of dark chocolate chips and ¾ cup of milk chocolate chunks and fold in.
Prepare 2 baking sheets by lining them with parchment paper. For big balls of dough and place on the cookie sheet setting apart by 2 inch.
Bake in the middle rack of the oven for 18 to 20 minutes at 180 C.
Let it cool on the cookie sheet for 5 minutes before transferring to the cooling rack. Enjoy!
Recipe Video
Recommended Products: