Fudgy and chewy walnut brownie with a delicious nutty crunch
These are fudgy brownies with a delicious nutty crunch. These are easy to make, bursting with flavor, and chocolate-loaded. This version of my chocolate brownie is rich in walnuts and cocoa flavor. This warm treat can be enjoyed by your family on any given day. This is so easy to make, the batter comes together in just 15 minutes. They make great desserts when served warm with a scoop of vanilla ice cream.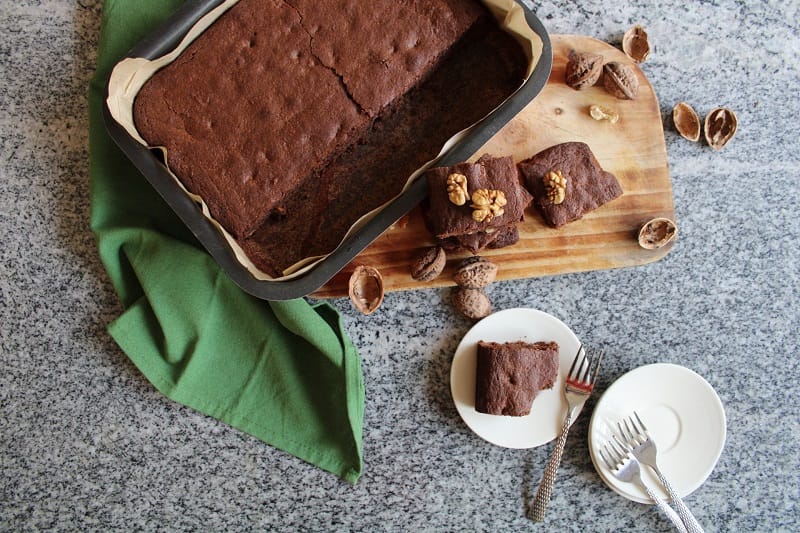 Ingredients Used:
Melted butter
Use melted salted butter. The salt in the butter balances the sweetness from the sugar added.
Sugar
I've used 2 cups of granulated sugar in this recipe. you may alternate it with 1 cup brown sugar and one cup granulated sugar.
Eggs
Eggs add moisture and bind everything together. I've used 3 large eggs in this recipe.
This is the leavener used for the brownies to rise. I've used 1 teaspoon of baking powder in this recipe.
1teaspoon of vanilla extract is added to enhance the flavour of the brownie.
This makes the brownie chocolatey and fudgy. 1 cup of cocoa powder is used in this recipe.
All-purpose flour
2 cups of All-purpose flour are used here.
1 cup of crushed walnuts are added for the delicious crunch.
Love Chocolate? You might love these too
The best Chocolate chip muffin