This dark Chocolate Tart recipe is a perfect dessert for chocolate lovers. The simple chocolate crust is filled with a decadent and rich chocolate filling. This silky Chocolate Tart is an easy, quick, and super delicious dessert for chocolate and coffee lovers as it adds a teaspoon of instant coffee powder in the filling and gives that chocolaty coffee flavor. This tart is super luxurious, and silky without being overly sweet. Chocolate and coffee notes dominate in a lovely crunchy chocolate crust.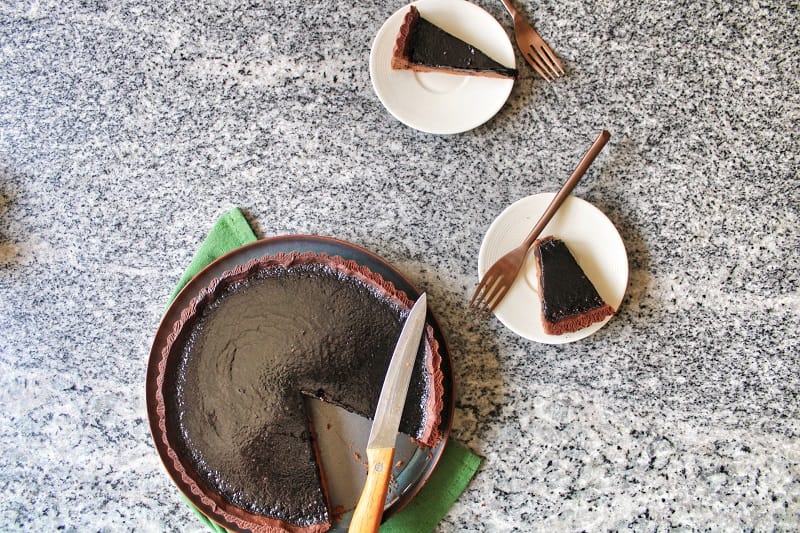 This chocolate tart has a delicious chocolate crust, not to mention a super creamy, decadent chocolate filling. This simple chocolate tart is a fancy, decadent dessert. It's super simple to whip up, and the entire dessert only requires 8 ingredients. This gorgeous chocolate tart is perfect for dinner parties, holiday celebrations, and special occasions. Especially because of how easy it is. The best crust for this tart is chocolate cookie dough. It's a simple dough to make and results in a crisp, sweet, and buttery tart crust. This chocolate tart is perfect just served on its own but a scoop of vanilla ice cream or some berries would never be out of place.
Ingredients to Make Chocolate Tart
For the chocolate tart crust:
For the chocolate tart filling:
How to Make Chocolate Tart
Make the chocolate tart crust dough and refrigerate: In a big bowl, cream ½ cup of butter. To this add ½ cup of powdered sugar and cream together. To this add one egg and mix well. Then, add 2 tablespoons of unsweetened cocoa powder and mix well. To this add 2 cups of all-purpose flour and mix. Form the dough using your hands and cover it using clin wrapper and refrigerate for 30 minutes.
Make the chocolate filling: While the tart crust is refrigerating, go ahead and make the chocolate filling that goes in the tart shell. To make the chocolate filling heat up 1/3 cup of water and ½ cup of butter in a saucepan. Add 1/3 cup of sugar and let it dissolve in the liquid. Add 1 teaspoon of instant coffee powder to this and mix well. When it's all heated up well, pour this mixture into 1 cup of dark chocolate. Stir continuously to melt the dark chocolate fully. Once completely melted, add 1 tablespoon of vanilla extract to this. Also, add 3 eggs and mix well.
Shape and bake the tart crust: Roll out the refrigerated tart crust dough big enough to cover the tart pan. Line the tart pan with the tart crust dough. Poke holes in the dough and bake the crust in a preheated oven at 190 C for 20 minutes.
Assemble the tart and bake: once the tart shell is baked, take it out and pour the chocolate filling in the tart crust shell. Preheat the oven to 150 C. Transfer the assembled tart to the oven and bake at 150 C for 20 minutes.
Cool the tart and serve: when the tart comes out of the oven, the filling will appear liquid-like. Let it cool to room temperature and refrigerate for half an hour before cutting into the tart and serving. Serve with sweet berries, whipped cream, or a scoop of vanilla ice cream.
Crazy about Chocolate? you would love these too:
Triple Chocolate Cookie Recipe
The Best Walnut Brownie recipe
The best chocolate chip muffin recipe
Chocolate Tart
Course: Tarts
Difficulty: Easy
Total time
1
hour
20
minutes
A simple chocolate crust filled with a decadent and rich chocolate filling.
Ingredients
For the chocolate tart crust:

Salted butter – ½ cup

Powdered sugar – ½ cup

Egg – 1

All-purpose flour – 2 cups

Unsweetened cocoa powder – 2 tablespoon

For the chocolate tart filling:

Water – 1/3 cup

Salted butter – ½ cup

Instant coffee powder – 1 teaspoon

Dark chocolate – 1 cup

Sugar – 1/3 cup

Vanilla extract – 1 tablespoon

Egg – 3
Directions
In a big bowl, cream ½ cup of butter. To this add ½ cup of powdered sugar and cream together.
To this add one egg and mix well. Then, add 2 tablespoons of unsweetened cocoa powder and mix well.
To this add 2 cups of all-purpose flour and mix.
Form the dough using your hands and cover it using clin wrapper and refrigerate for 30 minutes.
While the tart crust is refrigerating, go ahead and make the chocolate filling that goes in the tart shell. To make the chocolate filling heat up 1/3 cup of water and ½ cup of butter in a saucepan.
Add 1/3 cup of sugar to it and let it dissolve in the liquid. Add 1 teaspoon of instant coffee powder to this and mix well.
When it's all heated up well, pour this mixture into 1 cup of dark chocolate. Stir continuously to melt the dark chocolate fully.
Once it is completely melted, add 1 tablespoon of vanilla extract to this. Also, add 3 eggs and mix well.
Preheat the oven to 190 C. Roll out the refrigerated tart crust dough big enough to cover the tart pan. Line the tart pan with the tart crust dough. Poke holes in the dough and bake the crust in a preheated oven at 190 C for 20 minutes.
once the tart shell is baked, take it out and pour the chocolate filling into the tart crust shell. Preheat the oven to 150 C. Transfer the assembled tart to the oven and bake at 150 C for 20 minutes.
when the tart comes out of the oven, the filling will appear liquid-like. Let it cool to room temperature and refrigerate for half an hour before cutting into the tart and serving. Serve alongside some sweet berries or whipped cream or a scoop of vanilla ice-cream
Recipe Video
Recommended Products: